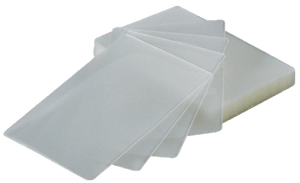 Premium Clarity Gloss Pouches
Heavy duty with rounded corners and of the stiffest construction.
**OBT, Letter, Legal, Small Menu, and Menu pouches in 10.0 mil thickness are 50/pack.  Everything else are 100/pack. 
LAMAPLY Pouch Laminate is a high-quality laminating film used mainly in the print industry. These are made from polyester (PET) with a thermally activated EVA adhesive.  They are designed to provide protection to your documents, creating a professional & long-lasting... Read More
Frequently Asked Questions
What are laminating pouches?
Laminating pouches are protective enclosures made of heat-sealing layers used to encapsulate documents or paper items, enhancing durability and safeguarding against moisture, wear, and tear.
What are the different sizes available for laminating pouches?
These laminate pouches are obtainable in various dimensions to accommodate diverse document sizes. Common options encompass ID card (2.5 x 3.75 inches), letter (9 x 11.5 inches), legal (9 x 14.5 inches), tabloid (11.5 x 17.5 inches), and many more! These sizes cater to the laminating requirements of small cards, standard documents, legal papers, and larger formats, ensuring versatility in preserving and protecting printed materials through the lamination process.
What types of documents can be laminated with laminating pouches?
Laminating pouches can wrap various documents, preserving and protecting them. Commonly laminated items include identification cards, luggage tags, business cards, certificates, menus, instructional materials, and important notices. The pouches, comprising heat-activated layers, provide protection against moisture, tearing, and UV radiation.
Can laminating pouches be used with both hot and cold laminating machines?
These pouches are compatible with hot laminating machines. They feature a specialized adhesive that activates under the heat of a hot laminator and the pressure from the nip rollers.
How do I choose the right thickness of laminating pouch for my project?
To determine the appropriate laminating pouch thickness for your project, consider factors such as document type, intended usage, and durability requirements. Generally, opt for a thicker pouch (5 mils or above) for frequently handled or high-quality documents, while a thinner pouch (3 mils) suffices for basic protection.
Can laminating pouches be used for double-sided lamination?
Laminating pouches are designed for double-sided lamination, effectively encapsulating documents and making them waterproof.
Are laminating pouches reusable?
No, they are designed for single use. Their adhesive layers bond permanently during the lamination process, making reusability unfeasible.
What is the process for loading a document into a laminating pouch?
The lamination process begins by selecting a pouch size matching the document's dimensions. The pouch contains an adhesive layer activated in a laminating machine, applying heat and pressure. Heated rollers evenly soften the adhesive, bonding it to the material. Simultaneously, pressure ensures sticky-material contact. Cooling rollers swiftly solidify the gluey post heat and pressure, preserving durability.
How long does lamination last with laminating pouches?
Various factors, including the quality of pouch material, environmental conditions, and handling frequency, influence the lamination longevity achieved with laminating pouches. Under typical usage and optimal conditions, laminated documents can maintain their integrity for several years. However, prolonged exposure to UV light, moisture, and frequent bending can accelerate deterioration.
Can laminating pouches be trimmed or cut after lamination?
Yes, laminating pouches can be trimmed or cut after lamination. But you must wait until the pouch cools down before trimming to avoid deformation. Precision cutting can be performed using a sharp blade or scissors to achieve desired dimensions while maintaining document integrity.
Where can I purchase laminating pouches?
Distinguished among online retailers, Leading Edge stands out by providing an extensive array of offerings, encompassing lamination pouches.